A Small Sandstone Hut is a alternative to stone huts due to the fact it is easier to find and can not burn.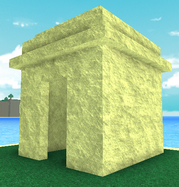 These huts are the same size as any small hut.
These might take a while to get, due to the forage rate of sand.
A small sandstone hut needs three sandstone segments to create.
A hut like this can show someone lives in an area/ on an island.